Private Enterprise Blockchain Platform
GumboNet™ blockchain powers the world's largest B2B ecosystem
What is enterprise blockchain?
Enterprise blockchain is a private blockchain used to deploy collaborative, automated and transactional peer-to-peer business networks. Enterprises benefit from the enhanced security, performance, trust and transparency it provides in the business value chain.
GumboNet™, our private, permissioned Blockchain as a Service solution, provides every feature and benefit an enterprise needs to enable touchless B2B transactions and facilitate true digital transformation.
Why choose GumboNet™ as your enterprise blockchain?
We build smart contracts for your specific use case
GumboNet™ is interoperable with your existing systems
Easily track transactions on your digital ledger
Enhance business intelligence with custom reporting
Create a robust and transparent business ecosystem
Reduce invoice reconciliation by at least 90%
Comprehensive high-touch onboarding
Free up time, reduce waste & cut costs
IoT sensor data & REST APIs eliminate human error
Click & deploy industrial smart contract templates
Robust developer tools for super smart IT people
Build trust within your business network
GumboNet™ blockchain replaces outdated manual processes with automation, ensuring our customers realize millions in improved contract performance.
GumboNet™ Blockchain as a Service
Our Blockchain as a Service provides enterprises with a full solution to private blockchain, minimizing the headache of traditional blockchain deployment. We package our network infrastructure, private blockchain, smart contracts, marketplace, and business network together to create the optimal BaaS solution for any industrial enterprise.
Available as a usage-based subscription service, deploying GumboNet™ to your business network delivers more than 10% cost-savings within six months of receiving company data and implementing a smart contract.
Easily create and deploy secure smart contracts on GumboNet™
Smart contracts are pioneering a new approach to commercial relationships—one that eliminates the need for countless audits and reduces friction to deliver streamlined operations and transactional certainty. Created specifically for industrial enterprises, our smart contract templates will change the way you do business.
GumboNet™ smart contracts are:
Immutable: Thanks to the blockchain, smart contracts can never be changed unless agreed upon by all parties within the distributed ledger. This builds trust and reduces fraud.
Automated: By eliminating intermediaries to validate contract terms, businesses can process and settle more transactions than traditional exchanges.
Distributed: For the contract to be valid, every member of the network must be in agreement, ensuring invoice reconciliation will not be completed until that takes place.
GumboNet™ smart contracts use real-time sensor level and field data to validate transactions and eliminate invoice disputes.
Touchless transactions decrease expenses by more than 10%
120 days or less to financial returns
Automation streamlines business processes, reducing 14+ step processes to 2 steps
The distributed ledger provides an immutable record of truth that builds trust and reduces fraud
Available as a subscription service; zero additional investment or installation costs
Connects with your preferred ERP for payment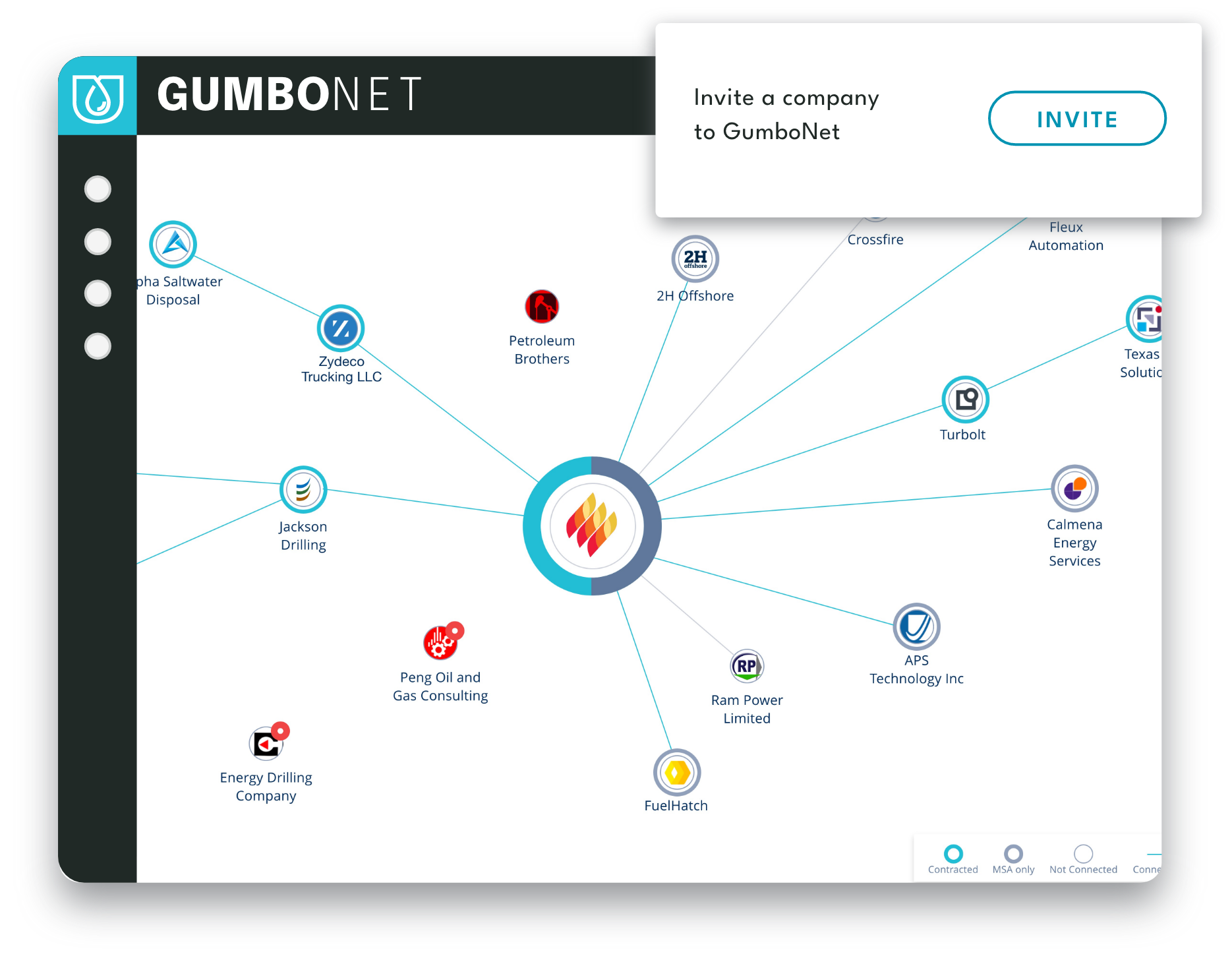 Fast & scalable business network
It's all about the network effect. You invite your customers, suppliers and partners to join your ecosystem, then watch while your business network grows, automates, delivers clear data, and ultimately eliminates inefficiencies in your business processes.
Corporate blockchain and smart contract application platform security is an important functional requirement that protects customer data and mission critical systems from accidental or deliberate impact. GumboNet™ maintains security controls to protect our customers and their enterprises.
We have recently completed our SOC 1 Type 2 audit.

We utilize data security controls that include logical segregation of data, role-based access, and utilization of commercially available and industry standard encryption technologies for data protection including encryption in transit using Transport Layer Security (TLS) and encryption at rest with Advance Encryption Standard (AES256).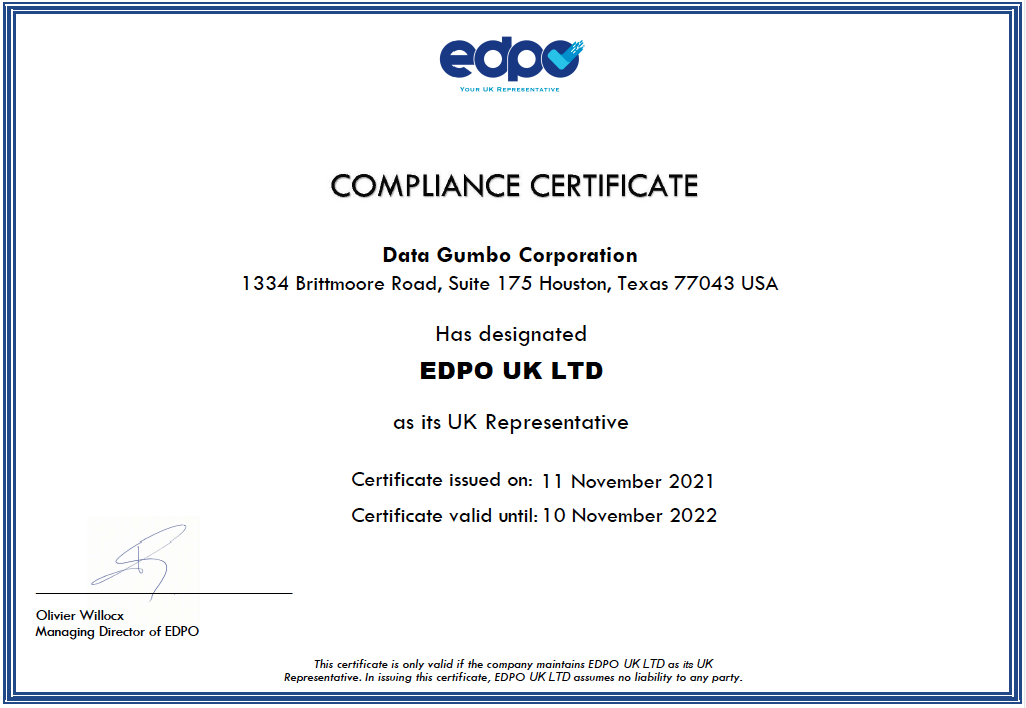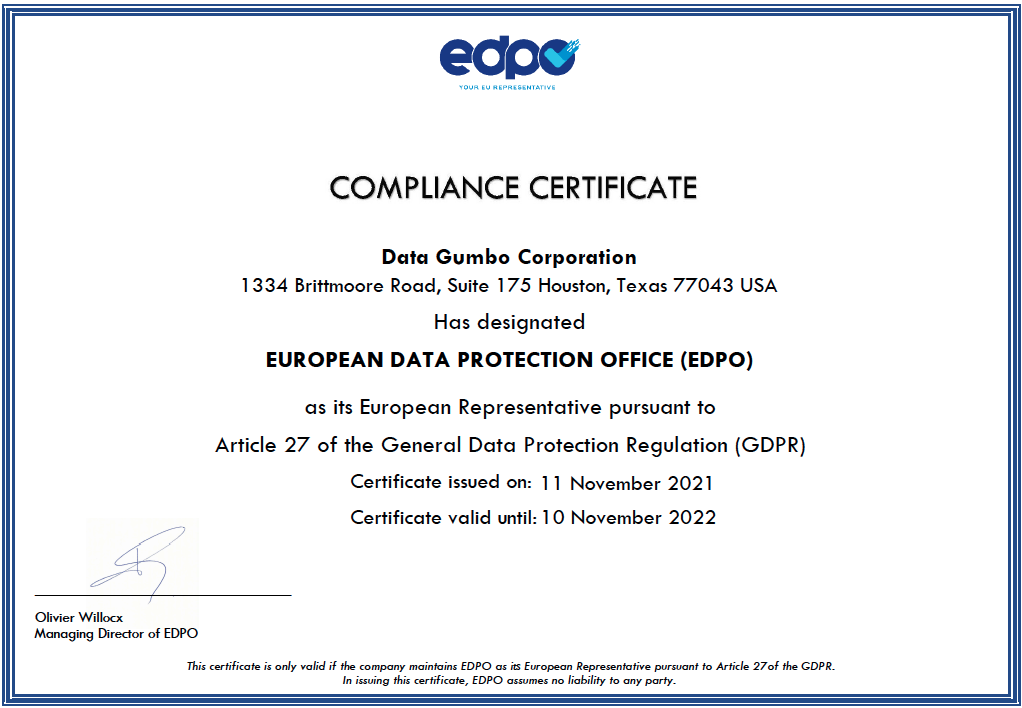 Ready to discuss your use case?