AUTOMATING CORPORATE ESG WITH SMART CONTRACTS & REPORTING
GumboNet™ ESG accurately measures sustainability initiatives
Removing roadblocks in ESG reporting
Current environmental, social and governance (ESG) strategies consume extensive human capital, time and financial resources without the guarantee of accuracy, timeliness or repeatability.
As corporate sustainability initiatives become widely adapted and increasingly aggressive, accurate metrics and reporting are key in achieving and proving sustainability benchmarks. That's where GumboNet™ ESG knocks it out of the park. We've got the only smart contract that creates auditable ESG reporting.
Why choose GumboNet™ ESG for sustainability insights?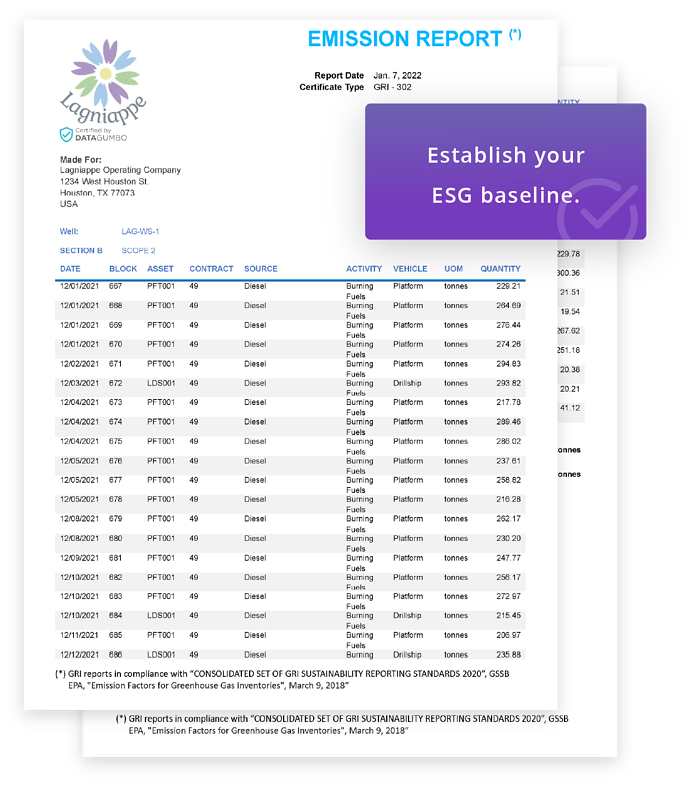 GumboNet™ ESG is the only smart contract that automates sustainability measurement, setting the gold standard for corporate ESG reporting
Real-time IIoT data produces fast, accurate and trustworthy ESG metrics
Distributed ledger-backed smart contracts provide an assurance of transparency, providing clear, measurable, consistent and verifiable ESG metrics
Establish your baseline, set a roadmap, and demonstrate daily, monthly or quarterly progress
Included with every GumboNet™ subscription
Fully automate GHG measurement & reporting
GumboNet™ ESG enables reporting in accordance with the latest international standards
Sustainability Measurement Reporting
Ready to start your
digital transformation?